What is in your hand?
June 14, 2013 • By M. J. Maynard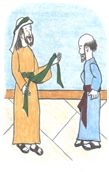 One of my favorite Bible stories is that of the paralyzed man who was let down through the roof of a house. He had such loyal friends! These men were determined to get their friend to Jesus, and they went to drastic lengths to make this encounter happen. They probably opened themselves up to ridicule when they marched that stretcher up to the rooftop, and started opening up tiles to create a hole. Can you imagine the comments from the onlookers?
These men were not only driven, they were also creative. When they realized it was impossible to wrangle through that crowd on the ground level, one of them must have looked upward and saw a solution. Then, when they were at the rooftop, they needed a way to lower that stretcher down the hole. It has been suggested that they might have untied their cloth belts, and used them as ropes. Without hesitation, these men used what they had available to get their friend to Christ.
What do we have in our hands that can be used to bring someone to Jesus? These Biblical friends offered their belts. We may be called to offer other things today---our cooking skills for a shut-in, our cars to take children to church, our time to baby sit for a single mom. On that day long ago, the man not only had his physical needs met, but also had his sins forgiven. All because his friends did everything they could to bring him to Jesus. May we be stirred to do the same today.
I hope your young reader enjoys The Hole in the Roof, our latest Sunday Bells book.
Visitor Comments (0)
Be the first to post a comment!