Worship with Gladness
June 25, 2013 • By M. J. Maynard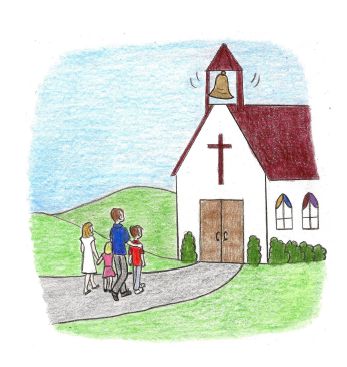 "I was glad when they said unto me, Let us go into the house of the Lord."-- Psalm 22:1(KJV). I'm pretty sure I learned this verse as a child in Sunday School. As an adult, it is my desire to embrace its message. I want to go to a worship service with a gladness that reflects a passion for my King. Fulfilling this goal may involve setting aside some other pleasures in life.
It is fairly common for churches to experience a drop in attendance during the summer. A lot of empty pews are due to vacations, sports and family events. There is nothing wrong with any of these times of connection and relaxation, and occasionally it is impractical to get to a church service. But, what message are we sending the next generation if we miss church Sunday after Sunday because of other things? And, in all honesty, are we really reading the Bible and praying effectively during those periods when we skip a lot of church services?
It is hard to draw the line and say "no" to the many influences that steal us away from church services. Sports teams are fine, but many times the coaches and schedules do not allow for church attendance. Family members crave our time, and they may think they are taking second place if you make time for church before visiting them. And then, there are the personal temptations--golfing, boating, sleeping, etc.--that try to lure us away from going to church.
How would our families be different if our priorities shifted, and we developed such a love for going to the house of God that nothing could keep us away? What if, instead of having to miss church for something else, we had to adjust the other activity to fit around our church time? I think our children would get a clear message that corporate worship is very important. They would learn that it is an aspect of our lives that will not yield to compromises. Your friends and neighbors will notice, too.
I hope your summer is filled with enjoyable family times. And I pray that God blesses you with gladness as you worship together every Sunday.
Visitor Comments (0)
Be the first to post a comment!