A Princess and a Plan
January 13, 2015 • By M. J. Maynard
She was just going to the river for a bath, as she usually did. Pharaoh's daughter had no idea what God had planned for her on that warm Egyptian day. As her maids helped her step into the Nile, a baby's cry caught her attention. Even though she was a princess, she must have had a natural, motherly affection for babies. Without hesitation, she asked her maids to bring the child to her.
Immediately, she knew that the baby was a little Hebrew boy. She thought of her own father's command to have soldiers throw all these innocent male infants into this very river. One look into this baby's face made her determine that this fine child was going to be spared!
The princess may not have realized it, but she played an important part in God's plan for Baby Moses. She made an immediate decision to keep him as her own, and announced it loudly enough that big sister Miriam heard it from her hiding place. When Miriam ran up with an offer to find a Hebrew woman to nurse the baby, the princess accepted this as the perfect solution for the care of her newly adopted son. Could Pharaoh's daughter have suspected that this woman would be the baby's o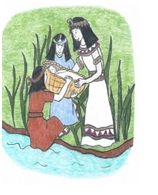 wn mother?
The wise and compassionate princess made a brave decision that day. We can only imagine the scenario when her father found out her intentions. How did she gain his approval to raise a Hebrew boy in the palace? Was she in such favor with her father that he let her do anything she ever wanted to do? Or, did she have to negotiate and put up a fight to be able to keep the child?
There are many unanswered question in this Bible story, but we know one thing for sure. God had a plan for Baby Moses, and He used the daughter of Pharaoh to accomplish His will.
Miriam's Baby Brother is our newest Sunday Bells book. We hope your children enjoy our version of this beloved story.
Visitor Comments (0)
Be the first to post a comment!