Packing a Lunch and Preparing for a Miracle
September 14, 2015 • By M. J. Maynard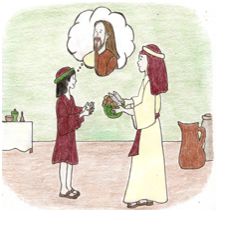 She was just packing a lunch. An ordinary task on an ordinary day. Five rolls and two fish would be just enough to keep him from getting hungry on his day out.
The Bible doesn't speak of her, but I like to imagine that the boy in the story of the loaves and fishes had a responsible, providing mother. I can see this lady of long ago packing a lunch for her son, just like millennial moms still do today. I wonder if the obligatory question--"Do you have your lunch?"--was asked as he went out the door.
There are things we can learn from this caring mother. First, she supported her son's desire to see Jesus. She let him go out on his own, and did not restrict his amibitions in any way. She was no "helicopter parent"!
Also, it was evident that she had taught her son manners and respect. He probably had some "sharing" lessons along the way, since he was so willing to give his lunch to Jesus. And, as a small boy, he seemed to be very comfortable mingling with adults.
This unnamed woman could never had predicted the outcome of her ordinary acts that day. Who knew that Jesus would take that simple lunch and multiply it to feed a multitude? In her desire to be a good mom, she was setting the stage for a miracle that would be witnessed by her son and told throughout history.
Moms of today, keep up the good parenting. Provide ways for your child to meet Jesus. He will take the efforts you put into ordinary tasks and multiply them. The miracles are coming!
Visitor Comments (0)
Be the first to post a comment!