Cooking Up Some Literacy
June 24, 2016 • By M. J. Maynard
Do you enjoy cooking? Does your child? We usually think of kids' cooking as a way to develop math abilities, which it definitely does. But following the directions of a recipe is also an enjoyable way to develop literacy skills.
Simple recipes and instructions on packaged mixes are surprisingly easy to read. They are full of words that are easily decodable. Think of the back of the brownie box--heat, stir, bake. Often there are pictures, which help the new words to make sense. When you make a recipe, have your child attempt to read aloud each step, and then perform it together. Your new reader will add to his vocabulary, learn to follow directions, and understand sequencing.
M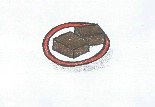 ost kids love hands-on experiences of any kind, and cooking is a readily available, low-prep activity. Creating a tasty treat together gives your child practice with new material while also gaining an understanding that reading is purposeful for life skills.
What is your child's favorite thing to cook? Recipes are welcome! Please share.
Visitor Comments (0)
Be the first to post a comment!