Jesus is Alive!
March 27, 2017 • By M. J. Maynard
The vision statement of Sunday Bells reads "to help the next generation discover Biblical truths and apply it to their lives." Thinking about this led me to create a Sunday Bells book that I had been putting off--one with the subject of the crucifixion of Jesus Christ. I kept thinking that it would be hard enough to write about, much less illustrate. But God kept reminding me that this story was more important than any other, and it was a missing piece in the Sunday Bells collection.
How could I depict any of the details of this story for very young children to read? My first thought was to investigate how every one else handled it. I researched Bible story books and other resources, and found quite a variety of approaches. Most were very sensitive, and did not go deep into physical details. Some simply omitted any references to the crucifixion and just used words like "Jesus died."
I didn't find much help from those other resources. I did, however, discuss the issue with a wise mentor in my life. He gave me the best answer, "Show it with love." And that was what I gently tried to do as I presented the crucifixion in words and illustr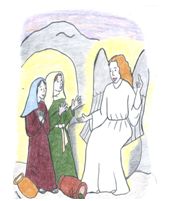 ations.
Of course it would have been easier to just skip to the glory of the resurrection when making a book for children. However, I feel that it would have been a compromise to the wonderful story of redemption. Even the littlest humans need to know the truth that Jesus suffered on a cross for our sins. We must know that Jesus died, so that there will be a powerful contrast when we learn of the miracle of the resurrection.
And what a miracle it was! As I worked on the final pages for this book, I was filled with gratitude that we have a risen Savior, who still lives today.
It is my desire that Jesus is Alive! does fulfill the Sunday Bells vision, and that many children will discover the Biblical truth that changes lives as they read this Easter story.
Save
Visitor Comments (0)
Be the first to post a comment!
Christian grandparents have many resources to spiritual growth in their grandchildren.
In early reading, discussion about a story activates comprehension.
Structured role play can develop strong literacy and speech skills.
Back To Archives